Black Sheep Cafe
Black Sheep Cafe, famous for its delectable Navajo cuisine, isn't just one of the best restaurants in Utah county, it's one of the best restaurants in the state.
"This unique restaurant serves some of the best Native American cuisines in Utah," wrote McKenna Hurd of Explore Utah Valley. "Try their Navajo tacos or burgers with a twist!"
Located in Downtown Provo. Black Sheep Cafe is worth the drive, no matter where you're coming from.
Bam Bam's BBQ
Barbeque spots are common these days, so to stand out from the crowd you need to be exceptional in your meat and service. Bam Bam's BBQ in Orem checks all the boxes and more.
Smoked and cooked to perfection, the meats at Bam Bam's are sure to be "the best that money can buy," says the Bam Bam's BBQ website. Owner and pit boss Cameron True loves his craft, and it shows in every deliciously juicy bite.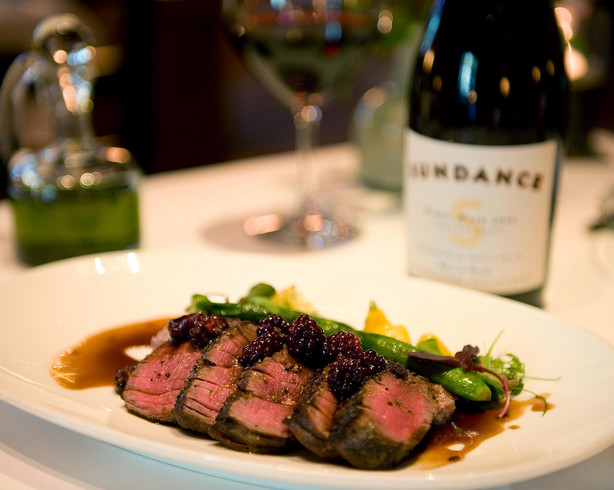 Tree Room at Sundance
Offering a fine dining experience against one of the most beautiful backdrops you could dream of, it's hard to do better than the Tree Room at Sundance Mountain Resort.
With a four-star rating from Forbes Travel Guide, an award of excellence from Wine Spectator, and a Best of State award, you know their popular dining options such as pepper steak, sirloin steak, and crab are all going to be some of the best around.
The Tree Room is an excellent choice for those celebrating a special occasion or just looking for a nice night out in the mountains.
Chom Burger
Chom Burger is a local favorite burger joint, offering high-quality burgers, fries, and shakes. There are many burger spots around the valley, but Chom Burger stands out for its unique variety and consistently excellent quality.
One five-star reviewer on Google said, "All I can say is this is literally the best burger I've ever had in my life. I'm obsessed, the fries and sweet potato fries were delicious and the Oreo shake spectacular. 10/10 recommend…"
Located a few blocks from Provo's downtown and Center Street, the centrally-located burger place should definitely be at the top of your list.
Communal
If you're looking for one of the most delicious, unique, and memorable meals you can have in Utah, Communal is the place to go.
Specializing in farm-to-table experiences, Communal is all about fresh, quality, and flavor—and it's worth every penny.
Eating Communal's food around a large table with your friends and family is unlike other dining experiences you've probably had in Utah. The servings come with enough food for at least two people, so you can and should get a couple of dishes to share!
With high ratings on Google and Yelp, it is one of those special restaurants that will leave you already planning your next visit.
Seven Brothers
Sharing locations across Hawaii and Utah, Seven Brothers has put their hearts into making their burgers, salads, and fish meals some of the best around.
The founders at Seven Brothers want your experience to be more than just a meal. They want you to feel like family—and it shows. "We want everyone to find not only the best food but the best feeling possible," said the owners. "A place where it's not "just a meal, but a lifestyle."
With a relaxed, surfer atmosphere, and friendly staff, Seven Brothers is a great alternative to your usual burger spot and will blow you away with how good everything on the menu is. You'll find locations in Saratoga Springs and Provo.
Oteo
Simple, customizable, delicious Mexican food is the name of the game at this little family-owned restaurant in Lindon.
Oteo, and its bright, clean, friendly atmosphere, is a pleasant experience for those wanting authentic Mexican cuisine. Enjoy a laid-back meal made with handcrafted food and ingredients served by friendly staff.
One five-star Google review said, "If you want a high-end Mexican restaurant with a creative and delicious menu then this is the place to go. Oteo is so delicious. The queso and the tacos are probably my favorite but this is the kind of place you have to try everything on the menu. I will be going many more times!"
The Foundry Grill
One of two excellent restaurant options at Sundance Mountain Resort, The Foundry Grill is breathtaking in its food and surroundings.
Not as formal as the dining experience at The Tree Room, The Foundry Grill is still high-quality food in an amazing setting. Take the trip up the canyon, you won't be disappointed—especially if you order their filet mignon or bison burger!
Utah County is full of decadent dining options. Visit Explore Utah Valley today for more dining options and guides.